Would you like to complete a 30 second questionnaire? It will help make the website better for others. Your participation in this questionnaire is completely anonymous.
Survey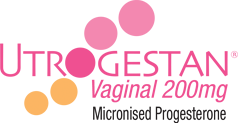 FREQUENTLY ASKED QUESTIONS
What is Utrogestan Vaginal?
Utrogestan Vaginal are capsules that contain the hormone progesterone, which when inserted into the vagina has been shown to increase the chances of getting pregnant after IVF treatment.2

What is progesterone?
Progesterone is a female hormone that's released naturally as part of the menstrual cycle to help prepare the body for pregnancy.

Why does Utrogestan Vaginal have to be inserted into the vagina?
Inserting Utrogestan Vaginal into the vagina allows the progesterone to be rapidly absorbed.2

Why can't Utrogestan Vaginal be swallowed?
Utrogestan Vaginal capsules have not been designed nor studied for oral administration (by mouth) and must only be administered by vaginal route.

Can I insert two capsules at once?
Always take Utrogestan Vaginal only as your doctor has told you to.

What if I forget to take a dose of Utrogestan Vaginal?
If you forget a dose, insert a capsule as soon as you remember. If it's nearly time for the next dose, then skip the dose you've forgotten. Do not take a double dose.

What if I've swallowed Utrogestan Vaginal by mistake?
If you have swallowed Utrogestan Vaginal by mistake please refer back to your doctor and follow their instructions. You should also consider reporting this product misuse as an Adverse Event.

Are there any side effects from Utrogestan Vaginal?
Like all medicines, this medicine can cause side effects, although not everybody gets them. Local side effects like burning or itching of the vagina have been reported in literature and in clinical trials, however the incidence was extremely low. For a full list of side effects, please read the package leaflet.
Similarly, low incidence of discharge (leaking) from the vagina have been reported, which is why wearing a panty liner is recommended.
If you get any side effects, talk to your doctor, pharmacist or nurse. This includes any possible side effects not listed in the package leaflet. You can also report side effects directly via the Yellow Card Scheme at www.mhra.gov.uk/yellowcard By reporting side effects you can help provide more information on the safety of this medicine.

Can a Utrogestan Vaginal capsule fall out?
If it is inserted correctly, it's unlikely a capsule will fall out.

How soon can I go to the toilet after inserting Utrogestan Vaginal?
Straight away – the capsules should be inserted deep in your vagina, so going to the toilet (which happens through your urinary canal) won't affect the capsules.