Would you like to complete a 30 second questionnaire? It will help make the website better for others. Your participation in this questionnaire is completely anonymous.
Survey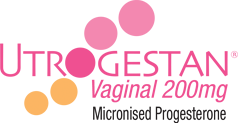 We have developed this website to help you in the next stage of your journey – the luteal phase of the menstrual cycle. We understand it is important for you to know why you have been prescribed this treatment and how it works. To answer some of the questions you may have, this website contains the following information:
Why you have been prescribed Utrogestan Vaginal and how it works
How to use Utrogestan Vaginal
When not to use Utrogestan Vaginal
Helpful resources such as answers to common questions asked by other women who have used this treatment
Information about the company that makes Utrogestan Vaginal
We hope you find the information of value.
Please let us know your thoughts by completing the survey shown above.
We have also created an app with the additional feature of a dose reminder function. To download the app, search for Utrogestan Vaginal in the App Store or Google Play.
Please always take Utrogestan Vaginal exactly as your doctor has advised you to.